The Alley of Little Secrets
An event for toddlers to wander through
Duration: about 50 minutes
For ages 3 and up
The Alley of Little Secrets brings together established and emerging artists, from a variety of artistic disciplines, by inviting them to conceive and present short forms for children aged 3 years and up. The space, designed by visual artist and set designer Gigi Perron, is presented as a cabinet of curiosities made to scale for toddlers.
In this event, young and old wander through different locations: mini-theatres, game areas, mini-exhibitions and, along the way, discover different artistic universes: visual and sonic installations, puppets, songs, shadow theatre, animated films, etc.

Initiated in April 2017, in the context of our cultural mediation activities, The Alley of Little Secrets was presented four times, in collaboration with the Parc-Extension Maison de la Culture (Hors les murs programm), for groups of daycare and primary school children. In February 2018, two presentations of the event were created for the whole family.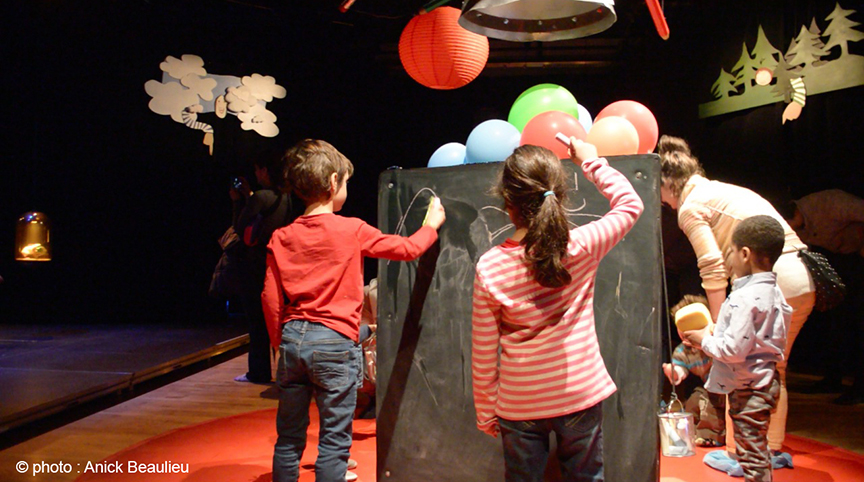 In this project, the set design is adapted to the venue and the cast varies. The performing artists who have participated, up until now, include: Nathalie Derome, Julie Desrosiers, Steeve Dumais, Michel Fordin, Lucas Jolly, Dominique Leroux, Christine Plouffe, Audrée Southière and Anne-Sophie Tougas.
Short animated films: Anick Beaulieu and Gigi Perron, Diane Obomsawin
Set design: Anick Beaulieu and Gigi Perron
Technical Director: Anne Parent