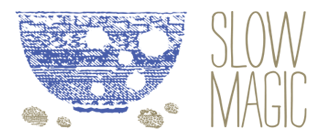 Slow Magic
For 18 months of age and older
On stage, a sound artist allows the secrets of playful mechanical objects to resonate while two jovial characters explore and build the universe.

They aren't afraid of getting dirty or wet to share their attachment to planet Earth, its mysteries and its endless transformations. In Slow Magic, all the senses are called upon to celebrate the cycles of life.
The genesis of Slow Magic
"My father was a potter. In our family, dirt was rarely synonymous with uncleanliness. The soft smell of clay wafts through my first memories as a crawling toddler. With Slow Magic, I chose to return to this primitive and primordial material." — Nathalie Derome
Slow Magic is the company Des mots d'la dynamite's third work intended for very little ones and written with their collaboration. Magie lente / Slow Magic is available for programming. If you are interested in our shows for booking, please contact us!
Creators and cast: Developed and written by: Nathalie Derome and Steeve Dumais / Sound design: Anne-Françoise Jacques / Performers: Nathalie Derome, Steeve Dumais and Anne-Françoise Jacques or Catherine Debard as a replacement / Creative team: Lucie Bazzo, Raymond Marius Boucher, Colette Drouin, Elinor Fueter, Gigi Perron / Technical director: Anne Parent
The 2017-2018 Montreal tour of Magie lente was supported by the Conseil des arts de Montréal and the City of Montreal.