Fresh News - Autum 2018!
Des mots d'la dynamite is celebrating 30 years!
The company's thirty years coincides with a period of unprecedented growth in art making, production and dissemination.
Take a plunge back in time with us, to remember a few outstanding moments from these three decades, using the following link
New faces at DMDD
New collaborators will brighten the 2018-2019 season with their stimulating vitality and know-how. Three dynamic women will be joining us, to take part in the bustling year that lies ahead: Geneviève Simard (General and administrative coordinator), Anne Parent (technical director) and Marie-Hélène Chaussé (mediator and dramaturg).
We'll be introducing them to you in more detail, throughout the year.
Revival of Slow Magic (For ages 18 months to 5 years)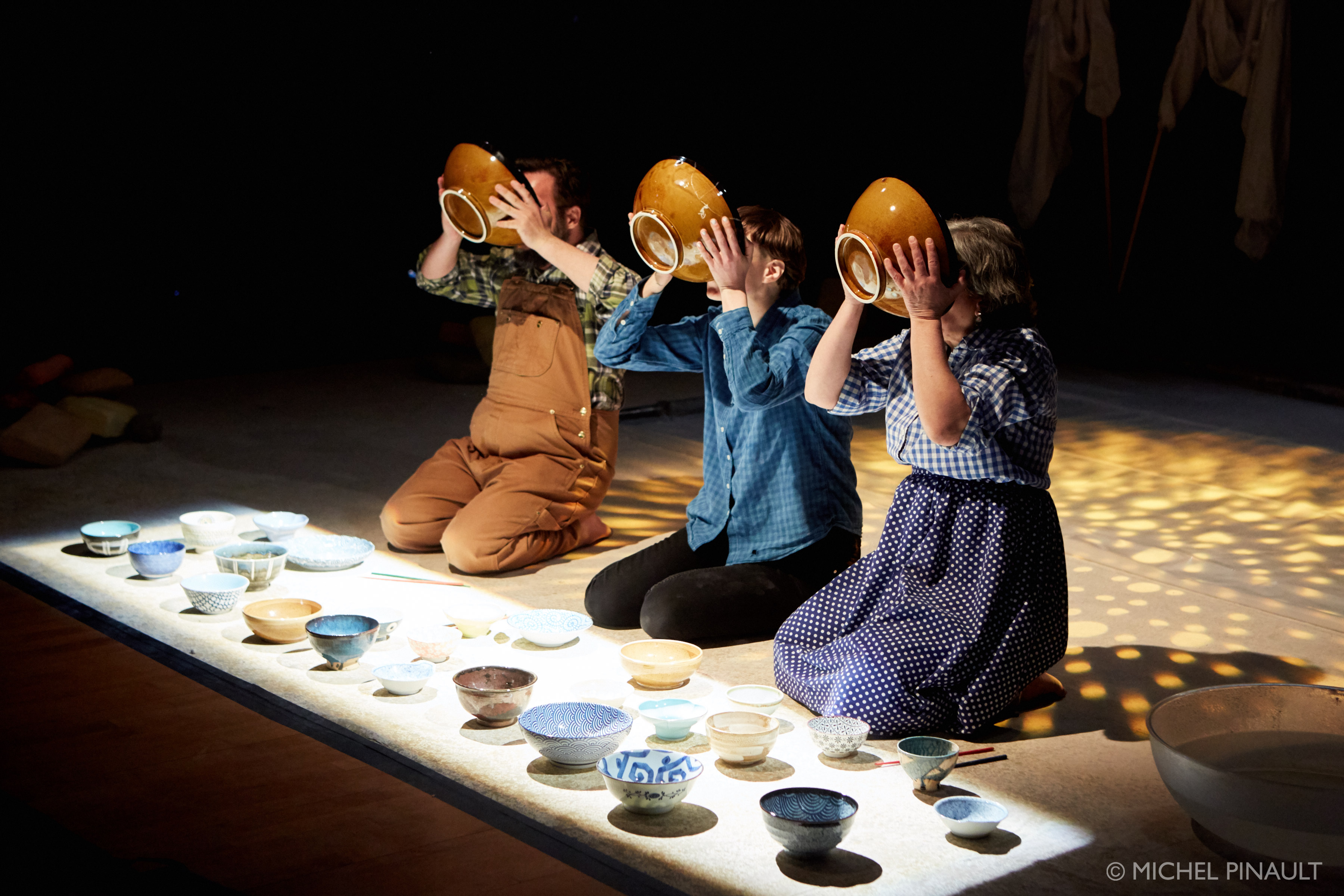 "Moving Heaven and Earth to find one's place."
Slow Magic, a show about the origins of the world, continues on its way in 2018-2019!
From October 18 to 21, Des mots d'la dynamite will be part of Théâtre Les Gros Becs' programming, performing seven times, an opportunity, which makes us feverishly happy. We would like to thank the CALQ for supporting the dissemination of work in Quebec.
Then, on November 16, Maison Théâtre has chosen the show for the FOCUS Quebec event, jointly organized with the Les Coups de Théâtre festival, in partnership with CINARS. This will be an opportunity for us to meet foreign disseminators and maybe, to form a few alliances, while sharing our work.
That's My Sister!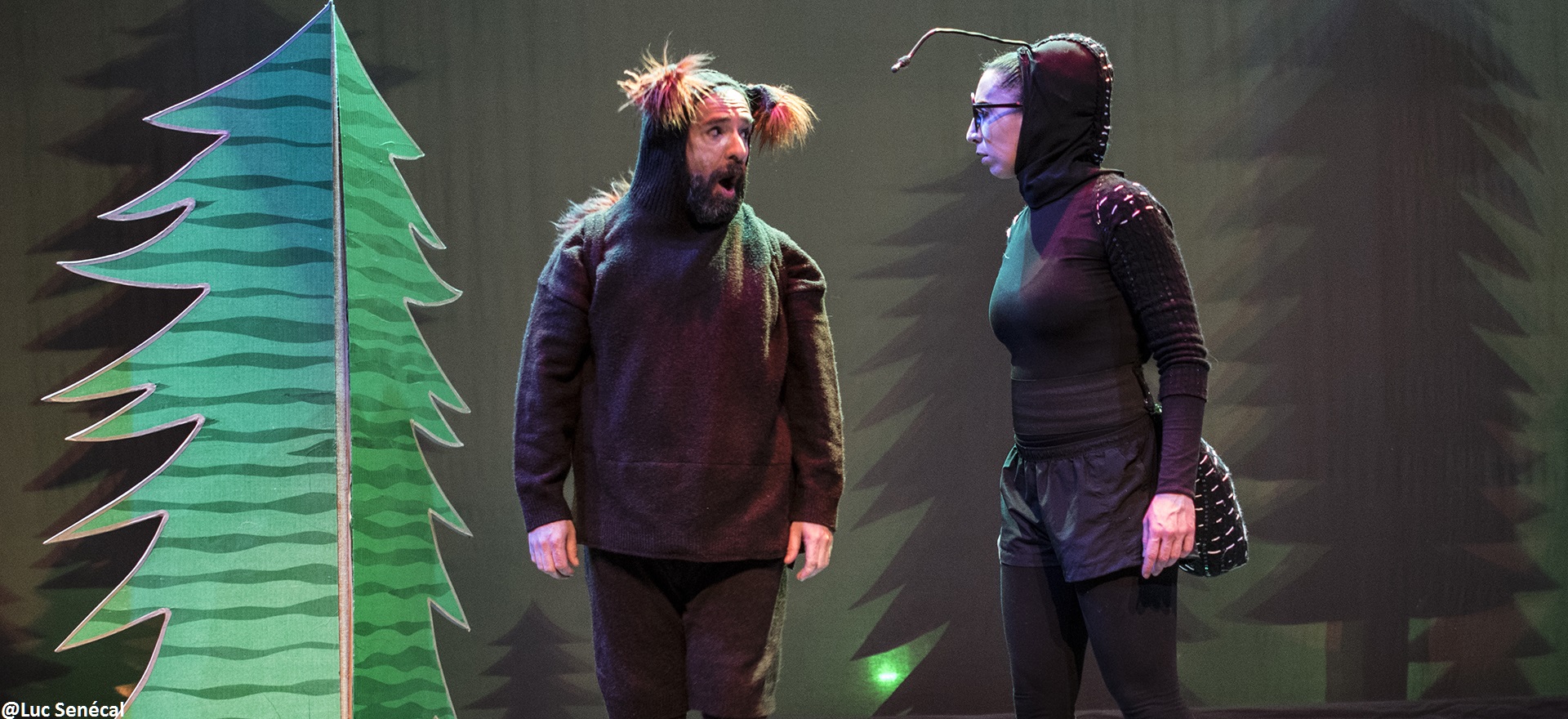 Author-performers Nathalie Derome, Steeve Dumais and Audrée Southière benefited from a week-long residency at Cochon souriant in order to continue the creative adventure that is That's my sister!, a comedy for 3 to 7 year olds interested in the management of emotions by an out-of-the-ordinary tribe.
A second residency will be held in November at the Parc-Extension performance venue. You are warmly invited to attend a workshop-performance on November 18 at 11 AM. For more information, click here.
A reminder that a première of this show will be presented at the Maison Théâtre, from March 7 to 17, 2019.
The biggest of the littlest ones!
Inspired by children and their remarkable creativity, Des mots d'la dynamite is undertaking a new cultural mediation project The biggest of the littlest ones in the Parc-Extension neighbourhood. This collaboration with the children from Barclay School will serve to enrich the writing of the show, That's my sister!
A big thanks to the Fondation du Grand Montréal for supporting this wonderful project with our young artists!
Nathalie Derome at DARE-DARE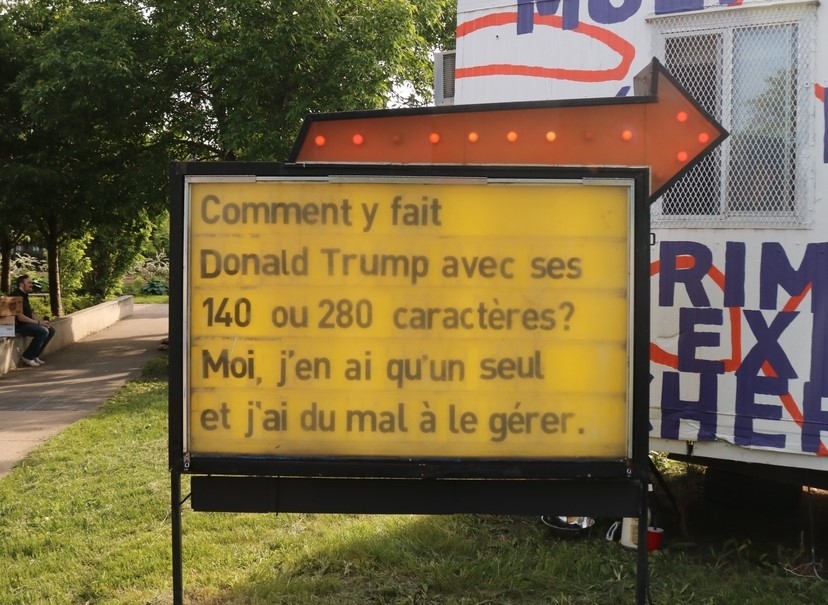 Starting November 28, Nathalie Derome will pursue her BOBOS-MÉDIA project at DARE-DARE, a multidisciplinary arts centre in Montreal. She is stimulated by the opportunity to conjugate language and engagement, through small IN SITU texts displayed on an LED panel. To be continued…
Unwavering support
Thank you to our Board members for their UNWAVERING support for the Des mots d'la dynamite mission: Guillaume-Pierre Michaud, Lucie Grenier, Yana Karieva and Lyne Des Ruisseaux.


Des mots d'la dynamite is a member of La Cenne, TUEJ, RAIQ, AQM, Scène Ouverte, Maison Théâtre, CQT, Culture Montréal, Machinerie.